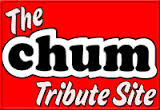 CHUM Charts
The '70s
1975 saw the end of the personal CHUM chart after being printed continuously for almost 18 years, since May 27, 1957. The final 'pocket' chart was published for the week of April 26, 1975 – Official issue # 932. Scott Carpenter holds the distinction of being the last CHUM jock to appear on a CHUM chart for the week of April 19.
CHUM continued to publish the weekly chart in Toronto newspapers until 1986 when it was discontinued altogether.
Special thanks to Ron Hall for his Photoshop 'clean up' of these CHUM charts.
---
RETURN TO THE CHUM TRIBUTE PAGE