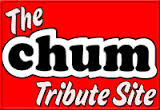 CHUM Charts
1971
Click on the title to see the outside cover

Click on the artist to see the inside with the chart
Hear a montage of every #1 song on CHUM from 1971
Hear the entire #1 CHUM Songs montage from 1957-86
* The CHUM Album Chart returns after a four-year absence.
** Beginning with the chart of May 15, and continuing until the chart of August 21, the date on the chart is three days ahead of the actual chart. The date on the chart is the date the chart was previewed online, which is three days before the chart was actually published.

*** Two charts for July 31, 1971. We don't know why.
**** The CHUM charts were never numbered until August 10, 1968 when the Top 50 listing was reduced to "The CHUM 30".That first top 30 chart was marked "Collector's issue No. 1"
NOTE: On May 2, 1970 the title "Collector's issue no." was changed to "Official Issue No." and on May 8, 1971 it was changed again to just "issue no."

The September 11, 1971 chart was "issue no. 163" It appears at this point CHUM wanted the issue no. to reflect the actual charts as the next chart dated September 18, 1971 was marked "issue no. 744". In reality it was actually "issue # 749".

It was never fixed - the numbers remained five behind for the rest of the charts.
---
RETURN TO THE CHUM TRIBUTE PAGE