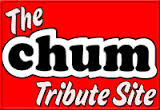 CHUM Charts
The '60s
The 1960's saw a great many changes in the CHUM chart. Pete Nordheimer left in the summer of 1961 and was replaced by Bob McAdorey.
The caricatures of the CHUM jocks were replaced the week of August 21, 1961 with a musical note that had caricatures of all the CHUM DJ's hanging onto it. The note and the caricatures appeared for the last time on the CHUM chart dated May 13, 1963.
The week of August 10, 1968 saw the biggest change in the CHUM chart. Gone was the 'Nifty Fifty', replaced by the CHUM 30.
Special thanks to Ron Hall for his Photoshop 'clean up' of these CHUM charts.
---
RETURN TO THE CHUM TRIBUTE PAGE