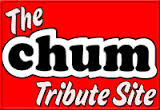 CHUM Charts
1968
Click on the title to see the outside cover

Click on the artist to see the inside with the chart
Hear a montage of every #1 song on CHUM from 1968
Hear the entire #1 CHUM Songs montage from 1957-86

* The January 22 chart marks the first and only time there was a tie for the CHUMdinger.
** The October 19 chart marks the first time there was a tie for #1, between Hey Jude/Revolution and Those Were The Days. The next week, the same two songs tied for first place again.
+ The August 10 chart featured dramatic changes. The chart was reduced from Top 50 to Top 30, "Hot New Hits" were replaced by "CHUM Chargers" were introduced and a "CHUM Albums" feature was added. Disappearing was the CHUMdinger, a chart mainstay since 1961.
---