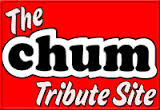 CHUM Charts
The '50s
May 27, 1957 was the date on the first CHUM chart. As you can see elsewhere in the CHUM Chart section of this site, the first chart had caricatures of the CHUM personalities of the day, including morning man and Program Director Phil Ladd, Pete Nordheimer, Harvey Dobbs, Phil Stone and Josh King. The back cover on Issue # 1 had a profile of Phil Stone. A caricature of all night DJ Hank Noble was added for the week of May 17, 1957, but mysteriously disappeared the following week. It returned to the chart on July 8 and was gone again the next week. Returning for the week of July 29, '57, Hank's caricature survived until the week of August 25, 1958 when it appeared for the final time, which is slightly confusing since Jay Jackson was listed as CHUM's all-night DJ from the chart dated January 20, 1958.
Al Boliska's caricature was first added to the CHUM chart for the week of November 4, 1957. A caricature of 'teen jock' Dave Johnson first appeared on the chart the week of January 20, 1958. John Spragge and Bob Laine's caricatures were added the week of September 1, 1958. This was also the first CHUM chart to list the names of the CHUM jocks underneath their caricature.
Initially, only the Top 10 had the artist's name printed beside the song title. The "Following 40" listed only the title of the song. That changed on the CHUM chart for the week of November 25, 1957 when all 50 hits had song title and artist listed.
Special thanks to Ron Hall for his Photoshop 'clean up' of these CHUM charts.
---
RETURN TO THE CHUM TRIBUTE PAGE