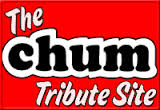 Al Boliska (1957-63)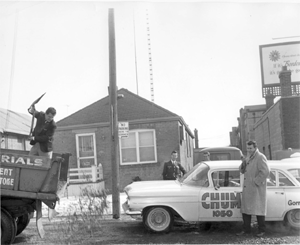 Al Boliska (on truck) fills potholes while Mike Darow (r) reports back to CHUM, 1960 (The CHUM Archives/Doug Thompson)
"The Happy Morning Mayor is on the air, with offices at C-H-U-M, 1050, Toronto" (Al Boliska CHUM jingle 1962)
Al Boliska aka 'the Happy Hungarian', was Toronto's 'Morning Mayor' from September of 1957 until the Fall of 1963. Throughout his 6 years at CHUM, he was always willing to volunteer for any crazy promotion the station asked of him. Al filled in pot holes on Toronto streets when the city's work department was too slow, he cleaned listeners homes (along with the other CHUM DJ's), and in 1959, as a CHUM publicity stunt for charity, Boliska 'wrestled' British Empire Champion 'Whipper' Billy Watson at Maple Leaf Gardens.
Naturally, Boliska lost.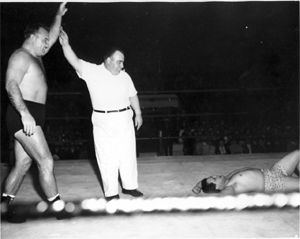 Whipper Billy Watson whips Al, 1959 (The CHUM Archives/Doug Thompson)
Al Boliska grew up in Montreal and began his broadcasting career in an off-air capacity at CBC Montreal, then developed his 'wild and crazy' morning show antics at CKLC in Kingston from 1953 until 1956 when he moved to CKSL London. His zany style and quirky humour quickly got him noticed and ratings for CHUM began to soar. Listeners adored 'kind, loveable, old Al Boliska'. Even the station itself (or at least CHUM's printing company), wasn't immune from mangling his unique last name. On the brochure for a contest to name the 'New CHUM' morning show, Boliska's last name is misspelled.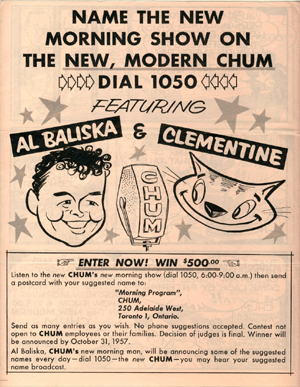 Name CHUM's morning show brochure, Pg. 4, 1957 (The CHUM Archives/Doug Thompson)
And now, these are the World's Worst Jokes…"
Al Boliska's most memorable feature by far was "The World's Worst Jokes" that he and 'Just Plain George' (aka producer/board operator George Nicholson) broadcast several times each morning. The title pretty much says it all, although it became so popular that it was repeated in Dave Johnson's evening program. Boliska took his jokes very seriously, keeping a massive file under 2000 different categories. He eventually published a half dozen joke books, including "Foreplay", a volume of golf jokes and had a subscription base of clients around the world for his joke service.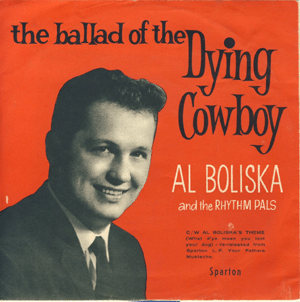 The Ballad of the Dying Cowboy, 45. front cover, 1960 (The CHUM Archives/Doug Thompson)
"The Ballad Of The Dying Cowboy"
Boliska and a Canadian country group called The Rhythm Pals (Mike Ferbey, Marc Wald ad Jack Jensen) made the CHUM chart in 1960 with "The Ballad of The Dying Cowboy" on the Sparton label. The song came about as the result of a contest on CHUM (naturally). Boliska did the talking while The Rhythm Pals did the singing. "The Ballad Of The Dying Cowboy" remained on the CHUM chart for 5 weeks, reaching its highest position of # 18 for the week of March 14, 1960 before quickly dropping off. CHUM's proceeds from the sale of the 45rpm single went to charity.
In the early 1960′s Al Boliska also hosted a local weekly television show "On The Scene" for CBC Toronto while continuing with his daily morning show at CHUM. "On The Scene" travelled around various Toronto locales using the then new medium of video tape.
Leaving CHUM
Al Boliska left CHUM in the fall of 1963 for rival CKEY. Most of his loyal CHUM listeners DID NOT follow him. After a couple years at 'EY, Al moved to CHIN Radio, a multicultural station in Toronto. He moved to Montreal's CFCF in 1967, then returned to Toronto.
Al Boliska passed away on April 7, 1972, the day before his 40th birthday.
Doug Thompson
CHUM Archives
---
RETURN TO The CHUM Tribute Page