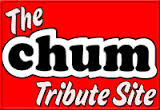 Year-end charts

CHUMbugs got their own New Year's gift every year, in the form of the year-end chart.
The first year-end chart to appear in print was on the back cover of the CHUM Chart of January 13, 1964 (the Top 63 of '63). A countdown of the year's top tunes had been carried on CHUM in previous years, but if you wanted a personal record of it you had to listen to the countdown and write them down yourself.
The year-end listing was carried on the CHUM Charts of January 11, 1965 (Top 64 of '64), January 10, 1966 (Top 65 of '65), January 8, 1967 (Top 66 of '66) and January 1, 1968 (Top 67 of '67). CHUM expanded its year-end listing to a Top 100 in 1968 and 1969, but they were no longer printed on the CHUM Chart. To get your personal list you had to send a stamped, self-addressed envelope to the station asking for same.
In 1970 and 1971, the year-end listings appeared in the Toronto Telegram. The Tely folded in October 1971, so those listings moved to its successor - the Toronto Sun - from 1972 to 1985. They were a Top 100 listing except for 1983 (the Top 83 of '83) and 1984 (the top 84 of '84). The Top 100 returned in 1985 and, like all the other post-1969 year-end listings, were only available in the newspaper. There was no listing for 1986 as CHUM had ended its hit music format in June of that year.
Here are CHUM's annual year-end charts from 1963 to 1985:
---
RETURN TO THE CHUM TRIBUTE PAGE