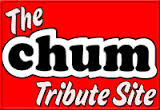 Brian Skinner (1963-69)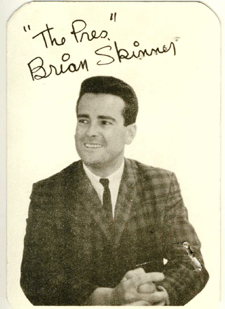 1960's official Brian Skinner membership card (front) (The CHUM Archives/Doug Thompson)
"There's Gore on the floor." (Brian Skinner introducing a Lesley Gore record on the Grooveyard, circa 1964)
'The chinner spinner' Brian Skinner, was also known on CHUM as 'The Prez' as well as the macabre master of 'The Grooveyard'.
Brian came to CHUM in 1963 from CKEY as a weekend and 'fill-in' announcer. He launched 'The Grooveyard' on Saturday nights, hosting hours of 'mouldy oldies' and 'dusty discs'. When Dave Johnson left CHUM in the fall of 1965, Skinner took over the 7 to 10PM weeknight shift.
His jokes were often corny, but Brian's enthusiastic and fun approach to radio with literally bells and whistles, tambourines and horns, endeared him to CHUM's teen audience. There was no question that he loved rock and roll. In fact, he became good friends with many of the stars who visited CHUM.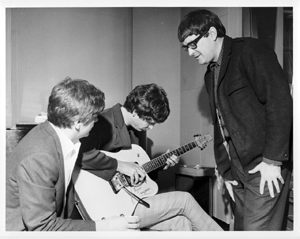 Brian Skinner with the Everly Bros., 1967 (The CHUM Archives/Doug Thompson)
For a few years, he'd have a nightly on-air visit from 'Gerald, the make up man', who would read jokes given to him by Skinner in his broken Polish accent. In reality, Gerald was Jerry Kowalski, who was from Poland and who was also CHUM's nighttime janitor. Jerry often didn't realize whether the jokes were funny or not, but they certainly were to CHUM listeners.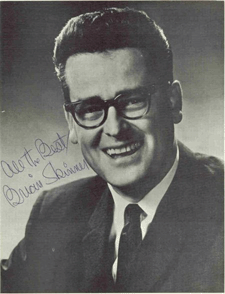 1960's Brian Skinner autographed photo (The CHUM Archives/Doug Thompson)
Skinner could also be serious. He believed in UFO's so much so that in 1966, he convinced CHUM management to air a weekly half hour program on Unidentified Flying Objects called "UFO Info" with Gene Duplantier. In the late 1960's, during the 'Age of Aquarius', AHED Records released a series of 12 albums, one for each astrological sign of the zodiac, written and narrated by Brian Skinner and Melvin J. Gunton.
When CHUM began to tighten its music format and cut down on DJ talk in 1969, Brian left CHUM and travelled the world for awhile. Last we heard, he had settled in Seattle, Washington.
Doug Thompson
CHUM Archives
---
RETURN TO The CHUM Tribute Page