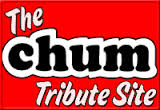 Duff Roman (1965-68)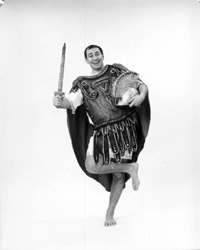 (Duff Roman in Roman Legion costume/CHUM Archives, Doug Thompson)
Most broadcasters would be more than proud to be in ONE broadcast Hall of Fame. Duff Roman has been inducted into THREE: the Canadian Association of Broadcasters in 2001, The Canadian Music Industry Hall of Fame in 2006 during Canadian Music Week and the Ontario Association of Broadcasters Lifetime Achievement Award in 2010.
Duff's originally from Saskatchewan and caught the radio bug in his teens. After on-air stints in Medicine Hat, Saskatoon and Edmonton, Duff was lured away to Toronto's CKEY by then owner Jack Kent Cooke.
Duff came over to CHUM in January of 1965 and although he left briefly a few times, 1331 Yonge Street was his main broadcast home for the majority of his career.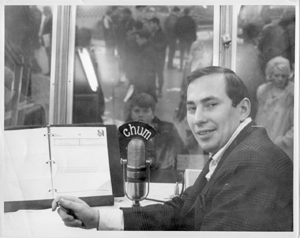 (Duff Roman at the CNE/CHUM Archives, Doug Thompson)
During his decades long career at CHUM, Duff's been the General Manager for CHUM-FM, a CHUM Limited Vice President and from 2007 to 2009, Duff was the Head of CHUM Radio for CTV.
Duff was the founding President for FACTOR (the Foundation Assisting Canadian Talent on Recordings), past Chairman of the Canadian Association of Broadcasters and a current member of the Board of Directors (as well as the Executive Committee) for the Canadian Broadcast Museum Foundation.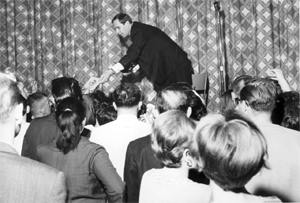 (Duff Roman at record hop/CHUM Archives, Doug Thompson)
Duff also was one of the pioneering record producers in Canada with his own label, Roman Records and with partners in the Red Leaf label. Duffs' studio sessions include producing Levon and The Hawks (later known as The Band), Little Caesar and The Consuls and several hits for David Clayton-Thomas ("Boom Boom", "Out of The Sunshine" and "Brainwashed") before DCT moved to New York to become lead singer for Blood, Sweat and Tears.
Duff continues to be active in the broadcast industry as a consultant to media corporations through Duff Roman Media Inc. and as Chief Network Officer for e-Radio Inc.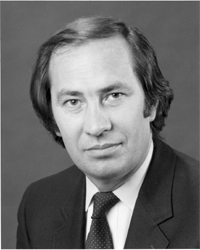 (Duff Roman corporate shot/CHUM Archives, Doug Thompson)
Doug Thompson
CHUM Archives
---
RETURN TO The CHUM Tribute Page