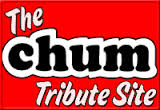 Original CHUM jocks (May 27, 1957)
(From Rock Radio Scrapbook - Used with permission)

Phil Ladd (6-9 a.m.): CHUM's first morning man, Ladd came to the station from KDUB Lubbock, Texas. He had the honour of playing the first record in CHUM's Top 40 format on May 27, 1957. He didn't last long - Ladd did his last CHUM show in October 1957, the first of the original CHUM jocks to leave the air, and was succeeded by Al Boliska. Ladd continued as CHUM program director until May 1958 when he was replaced by Allan Slaight. In 1960, Ladd was hired to do programming for WONE Pleasantville, New Jersey. A long-time resident of Scranton, Pennsylvania, Ladd died in his late '60s, according his friend, former CHUM jock Duke Roberts.
Harvey Dobbs (10 a.m.-12 noon): Dobbs started in radio in 1929 at CFCF Montreal and later moved to CFRB. He was in his eighth year at CHUM when the station switched to a Top 40 format. His original shift was 10 a.m. to noon, by September it would be expanded to 9 a.m.-noon. He left the airwaves in February 1959 to go into CHUM sales, and was replaced in the late-morning shift by John Spragge. Dobbs died September 7, 1984 at the age of 72.
Josh King (12 noon-1 p.m.): The man born William Joslyn Kingerley arrived at CHUM in 1951, hosting a show called "CHUM Valley" (he also appeared on "The Johnny Lombardi Show"). King left the station in 1953 but was back two years later to host "Country Caravan" which continued on CHUM even after the switch to Top 40. CHUM cancelled Country Caravan in January 1958 with Al Boliska adding the noon-time slot to his morning duties. (Note: A search of U.S. death records shows that a William J. Kingerley died in California on July 18, 2006 at the age of 77.)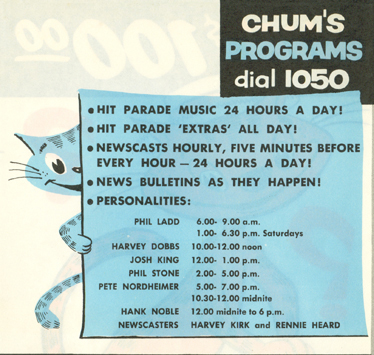 Phil Stone (2-5 p.m.): The Glasgow-born Stone was hired by CHUM to do public relations work in February 1949 but wound up on the air when the regular host of the show Sports Roundtable was having trouble showing up reliably. Stone, whose background included magazines, newspapers and sportscasting on CBC radio and television, wound up being a rock 'n' roll deejay when CHUM made the switch to Top 40. He didn't like the music but stayed on the air until May 1959 when he was replaced in the afternoon drive slot by Mike Darow. Stone became CHUM's vice-president in charge of promotions and charitable work. He left CHUM in 1966 to teach at Humber College, founding the radio program there in 1972. Stone died May 1, 2008 at the age of 94, less than a year after making his final radio appearance at the CHUM 50th anniversary reunion.
Pete Nordheimer (5-7 p.m., 10:30-12 midnight): Nordheimer was at CJCS Stratford, Ontario, prior to CHUM. He did a split shift on CHUM's original lineup, not unusual for radio in those days, with shows in afternoon drive and late night. Nordheimer was the only original CHUM jock still on the station's lineup into the 1960s. He was doing 1-4 p.m. when he was replaced by Bob McAdorey in August 1961. After CHUM, Nordheimer did audio work for the United Church and worked in programming for CHIN Toronto. Nordheimer was the last of the living original CHUM jocks before he died at age 93 on February 28, 2015.
Hank Noble (12 midnight-6 a.m.): A country-music recording artist under the name Billy Guitar, Noble and his group would perform live on CHUM on Friday nights. Noble/Guitar had a #22 CHUM Chart in 1957 with "Here Comes The Night." Noble, who also jocked on CFCN Calgary, CKRC and CKY Winnipeg and WCOS Columbia, South Carolina, did his last CHUM all-night show in January 1958. He was replaced by Jay Jackson, who was himself succeeded by Bob Laine later that year. Noble was in his late '50s when he died in 1988.
- Dale Patterson, Rock Radio Scrapbook
---
RETURN TO The CHUM Tribute Page