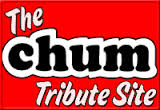 #1 Songs on the Moose Parade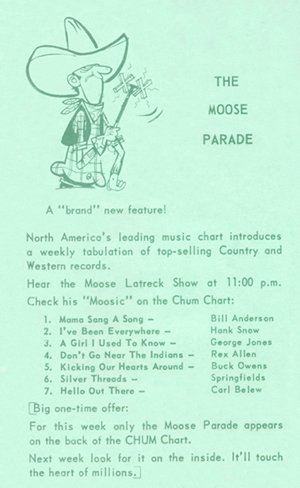 The first Moose Parade, November 12, 1962
The Moose was loose at CHUM in the early '60s.
From 1962 to 1964, Moose Latreck - who by day was CHUM Production Manager Fred Snyder - did a late-night country music show on CHUM. The show spawned The Moose Parade, a listing of the top country songs of the week as compiled by Promotions Director Allen Farrell and Music Director Bob McAdorey. It debuted as a top seven list November 19, 1962, was expanded to a Top 10 ranking the following week, then was shortened to a Top 5 list beginning with the chart of May 27, 1963.
The Moose Parade disappeared after a final appearance on the chart of June 22, 1964. Latreck's country music show - the last of its kind at CHUM - was replaced by Larry Solway's talk program, Speak Your Mind. "Understand Your Man" by Johnny Cash holds the record for the longest stay at #1, 11 weeks from March 9 to May 25, 1964.
Snyder left CHUM in 1966 for country-formatted CFGM Richmond Hill, Ont., then moved to newly launched Toronto station CHIN the following year. Snyder spent 33 years at the multi-cultural outlet as production manager, retiring in 2000. In 1980, Moose Latreck returned to the airwaves with a weekly show on CFGM called "Saturday Souvenirs." The show lasted a year. Snyder died June 22, 2006, the 42nd anniversary of the last appearance of the Moose Parade on the CHUM Chart.
1962
| | |
| --- | --- |
| November 19 | Mama Sang a Song - Bill Anderson |
| November 26 | A Girl I Used To Know/Big Fool of the Year - George Jones |
| December 3 | From a Jack to a King - Ned Miller |
| December 10 | From a Jack to a King - Ned Miller |
| December 17 | My Christmas Tree - Bobby Curtola (Moose Parade replaced with Christmas chart) |
| December 24 | Little Drummer Boy - Harry Simone Chorale (Moose Parade replaced with Christmas chart) |
| December 31 | From a Jack to a King - Ned Miller |
1963
| | |
| --- | --- |
| January 7 | From a Jack to a King - Ned Miller |
| January 14 | From a Jack to a King - Ned Miller |
| January 21 | From a Jack to a King - Ned Miller |
| January 28 | From a Jack to a King - Ned Miller |
| February 4 | The Ballad of Jed Clampett - Lester Flatt & Earl Scruggs |
| February 11 | The Ballad of Jed Clampett - Lester Flatt & Earl Scruggs |
| February 18 | The Ballad of Jed Clampett - Lester Flatt & Earl Scruggs |
| February 25 | Yellow Bandana - Faron Young |
| March 4 | Yellow Bandana - Faron Young |
| March 11 | End of the World - Skeeter Davis |
| March 18 | End of the World - Skeeter Davis |
| March 25 | End of the World - Skeeter Davis |
| April 1 | End of the World - Skeeter Davis |
| April 8 | End of the World - Skeeter Davis |
| April 15 | End of the World - Skeeter Davis |
| April 22 | Still - Bill Anderson |
| April 29 | Still - Bill Anderson |
| May 6 | Still - Bill Anderson |
| May 13 | Still - Bill Anderson |
| May 20 | Still - Bill Anderson |
| May 27 | Still - Bill Anderson |
| June 3 | Still - Bill Anderson |
| June 10 | Lonesome 7-7203 - Hawkshaw Hawkins |
| June 17 | Lonesome 7-7203 - Hawkshaw Hawkins |
| June 24 | Ring of Fire - Johnny Cash |
| | |
| --- | --- |
| July 1 | Ring of Fire - Johnny Cash |
| July 8 | Ring of Fire - Johnny Cash |
| July 15 | Ring of Fire - Johnny Cash |
| July 22 | Ring of Fire - Johnny Cash |
| July 29 | Ring of Fire - Johnny Cash |
| August 5 | Abilene - George Hamilton IV |
| August 12 | Ring of Fire - Johnny Cash |
| August 19 | Tips of My Fingers - Roy Clark |
| August 26 | Tips of My Fingers - Roy Clark |
| September 2 | Tips of My Fingers - Roy Clark |
| September 9 | 8 & 10 - Bill Anderson |
| September 16 | Talk Back Trembling Lips - Ernest Ashworth |
| September 23 | Talk Back Trembling Lips - Ernest Ashworth |
| September 30 | Talk Back Trembling Lips - Ernest Ashworth |
| October 7 | Talk Back Trembling Lips - Ernest Ashworth |
| October 14 | Talk Back Trembling Lips - Ernest Ashworth |
| October 21 | Talk Back Trembling Lips - Ernest Ashworth |
| October 28 | Talk Back Trembling Lips - Ernest Ashworth |
| November 4 | Talk Back Trembling Lips - Ernest Ashworth |
| November 11 | Make The World Go Away - Roy Price |
| November 18 | The Matador - Johnny Cash |
| November 25 | The Matador - Johnny Cash |
| December 2 | The Matador - Johnny Cash |
| December 9 | Love's Gonna Live Here - Buck Owens |
| December 16 | 90 Miles an Hour - Hank Snow |
| | |
| --- | --- |
| December 23 | 90 Miles an Hour - Hank Snow |
| December 30 | 90 Miles an Hour - Hank Snow |
1964
| | |
| --- | --- |
| January 6 | Love's Gonna Live Here - Buck Owens |
| January 13 | Love's Gonna Live Here - Buck Owens |
| January 20 | Love's Gonna Live Here - Buck Owens |
| January 27 | Love's Gonna Live Here - Buck Owens |
| February 3 | B.J. The D.J - Stonewall Jackson |
| February 10 | B.J. The D.J - Stonewall Jackson |
| February 17 | Saginaw, Michigan - Lefty Frizzell |
| February 24 | Saginaw, Michigan - Lefty Frizzell |
| March 2 | Saginaw, Michigan - Lefty Frizzell |
| March 9 | Understand Your Man - Johnny Cash |
| March 16 | Understand Your Man - Johnny Cash |
| March 23 | Understand Your Man - Johnny Cash |
| March 30 | Understand Your Man - Johnny Cash |
| April 6 | Understand Your Man - Johnny Cash |
| April 13 | Understand Your Man - Johnny Cash |
| April 20 | Understand Your Man - Johnny Cash |
| April 27 | Understand Your Man - Johnny Cash |
| May 4 | Understand Your Man - Johnny Cash |
| May 11 | Understand Your Man - Johnny Cash |
| May 18 | Understand Your Man - Johnny Cash |
| May 25 | The French Song - Lucille Starr |
| June 1 | The French Song - Lucille Starr |
| June 8 | The French Song - Lucille Starr |
| June 15 | My Heart Skips a Beat - Buck Owens |
| June 22 | Sorrow on the Rocks - Porter Wagoner |
---
RETURN TO The CHUM Tribute Page