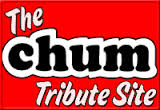 Bob McAdorey (1961-68)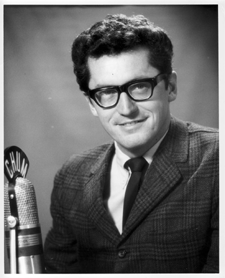 "Stick around and enjoy the Bob McAdorey Show. Get set, get ready to go. C-H-U-M 10-50, Toronto."
- CHUM jingle circa 1965
'The body beautiful'. 'McAdorey the Magnificent'. Bob McAdorey had many nicknames on the air at CHUM from 1961 until 1968. He was also known as the quickest wit in Toronto radio.
Mac (as he was known to co-workers), arrived at CHUM from CJOY in Guelph, Ontario, at the age of 26. He replaced Pete Nordheimer, the last original CHUM DJ from 1957 still on the air. Originally, Bob's shift was 1 to 4 p.m., but management soon decided to switch his time slot with Mike Darow and Bob became CHUM's 'drive home' host from 4 to 7 p.m. Not long after his arrival, he was also appointed CHUM's Music Director.
For several years, Bob was one-quarter of CHUM's singing group, The CHUMingbirds, along with Mike Darow, John Spragge and CHUM writer (and sometimes weekend DJ) Garry Ferrier. The CHUMingbirds performed at the CNE, at charitable events and occasionally on TV programs such as Al Boliska's local CBC-TV show "On The Scene". They even released a 45, "Brotherhood of Man" on Quality records in 1964.
Besides his CHUM airshift and his Music Director duties, Bob kept busy as a regular columnist for the Toronto Telegram's teen supplement After Four as well as hosting "Hi Time", a local TV dance program on Toronto's CFTO (now CTV Toronto).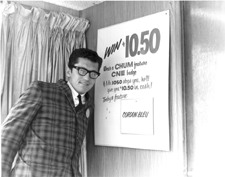 During the Canadian National Exhibition, from mid-August until Labour Day, the CHUM Satellite station was positioned front and centre at the Princes' Gates. Rock groups and solo artists often performed for the hundreds (sometimes thousands) of fans who gathered there. CHUM DJ's broadcast all day from 9 a.m. until 10 p.m. starting with John Spragge and ending with Dave Johnson (after 1965, the last CNE air show was Brian Skinner). The DJ's were also expected to work a daily shift at the back of the trailer to meet and greet CHUM listeners as well as hand out promotional material. Program Director Allan Slaight insisted that they always be smiling while at the CNE or face a fine. In order to look like he was smiling, Bob used to bite his lower lip. That worked, at least most of the time.
McAdorey left CHUM in 1968 when the station became more rigidly formatted and less 'personality' radio. He later worked at CFGM, the country station in Richmond Hill and easy-listening CHFI, which in 1972 became CHUM's Toronto Top 40 rival CFTR. He later returned to CFGM, hosting the morning show. In 1980, Bob joined Global Television in Toronto where, as an entertainment reporter and commentator, he appeared on the noon newscasts and later, as host of his own program, "The Entertainment Desk". Bob was at Global for 20 years until forced to retire at age 65 in 2000.
Robert Joseph McAdorey passed away in St. Catherines, Ontario on February 5, 2005 at the age of 69.
Doug Thompson
CHUM Archives
---
RETURN TO The CHUM Tribute Page