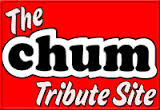 John Majhor (1975-86)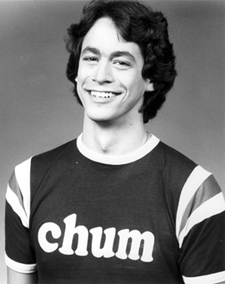 John Majhor in CHUM shirt, 1976 (CHUM Archives/Doug Thompson)
"...and I want to say 'hi' to my mom and dad, without whom I wouldn't have been possible."
For hundreds of thousands of CHUM listeners in the 1970's and '80's, he was simply 'The Maj'.
John Majhor was a natural born communicator and CHUM listeners took to him in a big way. 'The Maj's' first CHUM air shift was the all-night show on October 13, 1975, although he worked just about every shift at 1050 CHUM, including the morning show after Tom Rivers was fired.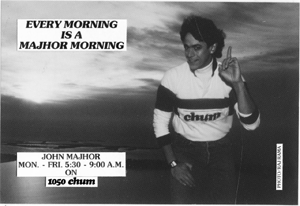 John Majhor CHUM morning show promo ad, 1985 (CHUM Archives/Doug Thompson)
Born in San Bernadino, California on November 28, 1953, John was one quarter Sioux Indian. He grew up in the mid-western United States and before being hired at CHUM, he'd been a DJ at WAPE in Jacksonville.
At CHUM, he always did his show in bare feet in order to feel 'comfortable'.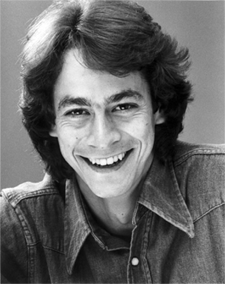 1980's John Majhor publicity photo (The CHUM Archives/Doug Thompson)
After CHUM, 'The Maj' hosted several television programs, including "Video Singles", "Toronto Rocks" and "Lunch Television". Moving back to Los Angeles, he helped launch the E! Entertainment Network and was a co-host on the nightly U.S. TV show "After Hours".
The Maj's voice was silenced forever on January 23rd, 2007 when he died from cancer. John Majhor was 53.
Doug Thompson
CHUM Archives
---
RETURN TO The CHUM Tribute Page