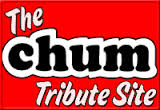 Bob Laine (1958-70)
"Did you Bob Laine last night, all night long, did you Bob Laine…here on Radio One." (1962 CHUM jingle)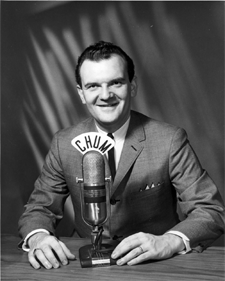 "Good Morning World, this is Bobbo. Good Morning Bobbo, this is World."
And with the Bob Laine theme music, "Everything I've Got (Belongs To You)" from Si Zentner's big band playing in the background, that's what CHUM listeners heard just after the midnight news every night for nearly 10 years as Bob began his nightly midnight to six air shift.
Bob began his long career at CHUM in May of 1958 (the first CHUM chart to feature a caricature of Bob's head was the week of September 1, 1958). His long-time sponsors were People's Credit Jewellers and car dealer Ted Davy. Bob briefly left CHUM in 1962 for a morning show gig at CFGM Richmond Hill, but returned a few months later to host the "Music Til Dawn" all night show, sponsored by Craven A Cigarettes. As usual, CHUM made a big deal surrounding Bob's return, creating a mystery about the 'new' DJ known only as "The Voice'" The night Bob returned to the CHUM airwaves was a huge event with all the CHUM DJ's live on air awaiting the arrival of "The Voice".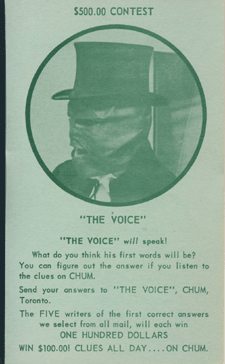 Laine remained CHUM's all-night DJ until 1968 when then Program Director J. Robert Wood moved him to the 11 a.m. to 3 p.m. shift. Finally, Bob could get a good night's sleep.
Bob Laine came off the air in 1970 to become Operations Manager at CHUM-FM. In 1974, Laine and his family moved to Manitoba when Bob was named General Manager for CHUM's Winnipeg radio stations. He returned to Toronto in 1990 as Vice President of Special Projects and not long after, created the CHUM Radio Network (now the Bell Media Radio Network), which syndicated Dr. Laura in Canada, had the Canadian rights to BBC Radio concerts and programs as well as creating original music and concert specials for Canadian radio.
Bob Laine retired on October 31, 2003 after 45 years with the CHUM organization. That date became known as "Bob Laine Day on CHUM" and both 1050 CHUM morning man Tom Rivers and afternoon jock Gord James paid tribute to Bob's career (with Bob live in the studio) during their broadcasts.
Although Laine retired from his day-to-day executive duties at CHUM, he continued to work on the CHUM Museum, the CHUM Archives and the beginnings of the original CHUM Tribute website until his death on August 31, 2011.
On March 23, 2012, Bob Laine was inducted into the Canadian Broadcast Hall of Fame with his family accepting the Allan Waters Lifetime Achievement Award on his behalf.
Doug Thompson
CHUM Archives
---
RETURN TO The CHUM Tribute Page