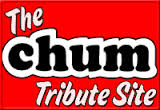 Dave Johnson (1957-65)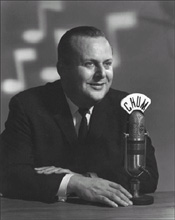 (Courtesy: Doug Thompson/The CHUM Archives)
"Here's Dave! Dave Johnson. He's gonna swing right here on the live and bright one…C-H-U-M 10-50, Toronto. With the prefect combination on Toronto's favourite station, here it is – Dave Johnson, music and you."
CHUM jingle circa 1962
Dave Johnson was the 'teen' DJ at CHUM. He came to Toronto's 'sonic tonic' in early 1958 from CKOY, Ottawa. The rest of the CHUM line-up played softer hits from the Top 50 during the day, but at night, Dave played the hits that teenagers wanted to hear.
When the Coca-Cola company began their Hi-Fi Club program for high school students on radio stations across North America in the late 1950's, CHUM was the obvious choice in Toronto. Dave Johnson became the President of the Hi-Fi Club on CHUM. Dave MC'd Hi-Fi Club dances, held contests, had nightly giveaways (plenty of six packs of Coke were included) and held all kinds of special promotions. The Hi-Fi Club lasted until the early '60's.
Initially, Dave's on-air shift at CHUM was 7 p.m. to midnight, but in 1960 CHUM management began tinkering with the late-night hours, first having live (and sometimes recorded) jazz from 11 'til midnight, then in 1961, CHUM added a half- hour talk show with various hosts from 10:30 until 11 p.m. A country music hour with Moose Latreck (in actuality, CHUM's Production Manager Fred Snyder) ran for several years from 11 to midnight. Finally in 1964, CHUM Vice President and Copy Director Larry Solway began a two-hour call-in show called "Speak Your Mind" and Dave's shift permanently became 7 to 10 p.m.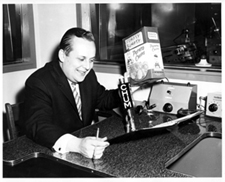 (Courtesy: Doug Thompson/The CHUM Archives)
In the spring of 1963, Top 40 rival CKEY hired a young, hip, fast talking DJ named Dave Mickie, who took the city (and teens) by storm. To counter program, CHUM management brought in the syndicated Dick Clark Radio Show for two hours a night from 7 to 9 p.m. Dick (usually on tape) and Dave Johnson, who was live, talked about the pop news of the day (Dick often interviewed hitmakers) and the two bantered back and forth. Dick gave time checks and Toronto temperature readings and it sounded like Dick was actually in the studio with Dave. The Dick Clark Radio Show lasted less than a year (Mickie was gone from CKEY by the end of the summer of '63 as well) and Dave Johnson continued to entertain Toronto teens just as he had before.
When Beatlemania hit in full force in 1964, CHUM became THE Beatles station in Toronto. For Dave's show, CHUM added daily Beatles news and updates with Ontario Beatles Fan Club President Trudy Medcalf. The feature was called 'Paunch and Trudy' (a word play on 'Punch and Judy'). The other CHUM DJ'soften made light-hearted fun of Dave's weight, so 'Paunch and Trudy' was a natural title.
Despite his upbeat, happy demeanor on the air at CHUM, Dave Johnson was actually quite shy. He always wore a suit and tie to work, although during his show, he removed his jacket and loosened his tie. Ironically, Dave didn't really like a lot of the Top 40 music he played as he was more of an opera and country music fan.
In the fall of 1965, Dave left his night-time shift at CHUM for an afternoon gig and the position of Music Director at CFGM, a country music station in Richmond Hill, north of Toronto. Dave remained at CFGM until his passing on October 20, 1980. He was 48.
Doug Thompson
CHUM Archives
---
RETURN TO The CHUM Tribute Page