Some revolutions start slower than others. This revolution played at 45rpm.
On the CHUM chart for the week of December 2, 1963 was a new song that didn't debut at number one.
It didn't even make the Top Ten. Or the Top Twenty. Or even the Top Forty.
But there it was at number 42. Out of 50 songs. Not exactly an auspicious start. The following week, the song climbed to number 20 and became the CHUMdinger (the fastest rising record of the week).
For the CHUM chart dated December 16th, its momentum had slowed somewhat as it only climbed five positions to number 15. But on the CHUM chart issued on December 23, it leaped into the Top Ten at number 5, where it remained for the following week (December 30th), the final CHUM chart of 1963.
Then came 1964. For the first CHUM chart of the New Year (January 6th), the song had only climbed two spots to number 3 with "Dominique" from Sister Sourire, aka the Singing Nun at number 2 and "Louie Louie" by The Kingsmen sitting at number 1. The following week's CHUM chart (January 13th, 1964) had "Louie Louie" still number 1, but this song was now number 2 and gaining fast.
Finally, on the chart dated January 20th, 1964, after 7 long weeks, the song achieved the ultimate success…the top spot on the CHUM chart. It remained number 1 for the next 3 weeks and was only replaced by another hit from this very same group.
By now, you've most likely guessed that we're talking about The Beatles. The song, by the way, was "She Loves You".
The Beatles was a band that Capitol Records Canada A&R head (Artists & Repertoire) Paul White had been trying to promote to Canadian radio stations for almost the entire year of '63 with very little success. White remembered The Beatles initial Canadian chart struggle for Piers Hemmingsen's excellent website, capitol6000.com:
"In early 1963, I received a copy of The Beatles single "Love Me Do". I liked the group's fresh new sound and released the song on February 18,1963. I followed it up with "Please Please Me" [released on April 1st, 1963] and "From Me To You" [released on June 17th, 1963], but sales on all three were low and our Canadian President started to question The Beatles saleability. I persisted and the next single, "She Loves You" [released on September 16th, 1963] landed on every major Canadian radio chart, becoming a huge seller and taking the previous three releases along with it, so all four hit the charts and justified my faith."
In actual fact, when "Love Me Do" was initially released by Capitol Canada, it sold only 170 copies. "Please Please Me" sold slightly better at around 280 copies.
When "She Loves You" eventually hit number 1 on CHUM on January 20th, the number 2 song was The Beatles cover version of the Chuck Berry song "Roll Over Beethoven". The groups' latest release, "I Want To Hold Your Hand" had its debut at number 40 on that same chart.
On the following week's chart, dated January 27th, The Beatles had 3 songs in the Top Ten, "She Loves You" was still number 1, "Roll Over Beethoven" had dropped to number 3 and "I Want to Hold Your Hand" was number 7 (it was also the CHUMdinger for the week having made the biggest jump from number 40 to number 7).
The Beatles CHUM chart success culminated during the week of March 23rd, 1964. Eight of their hits were in the Top Ten, including their double sided number 1, "All My Loving'/"This Boy", along with another double sided Beatles smash "I Want To Hold Your Hand"/"I Saw Her Standing There" at number 2. Plus "She Loves You" was number 3, "Please Please Me" and "Love Me Do" were numbers 7 and 8 respectively, with "From Me To You" rounding out the chart domination at number 10.
But that wasn't all! On that same March CHUM chart, The Beatles latest single, "Can't Buy Me Love" debuted at # 14. It was the 5th CHUMdinger for the lads from Liverpool since December '63.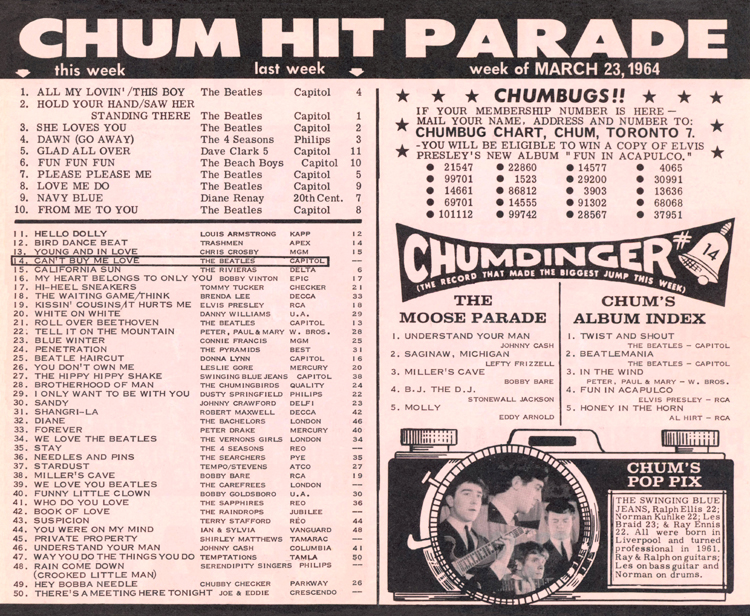 But just playing and charting The Beatles hits wasn't enough for CHUM.
The station embraced Beatlemania with everything they had.
The CHUM DJ's became the CHUM Cheatles.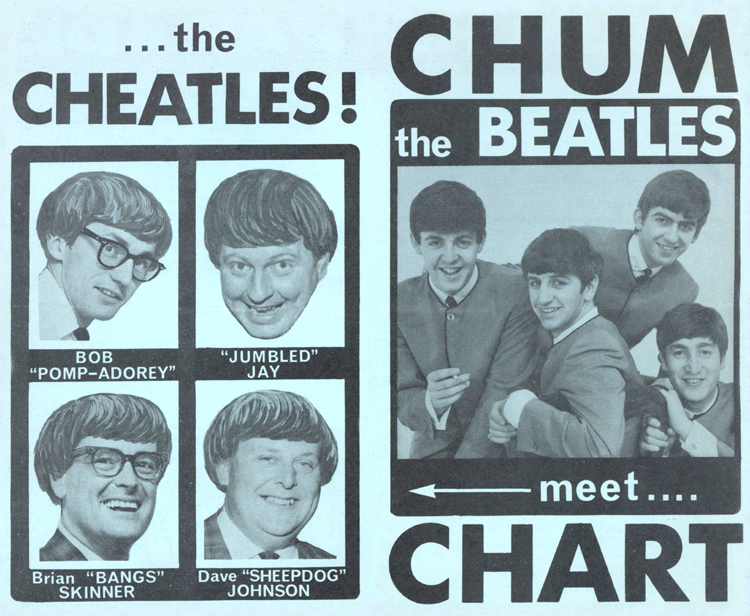 CHUM even bought a package of Beatles sound-alike station jingles from PAMS of Dallas and ran them several times an hour. CHUM often obtained an advance copy of any new Beatles single (much to the chagrin of the competition) and all of the CHUM board operators (of which I was one at that time) were instructed to insert a cart with a whispered 'A CHUM Exclusive!' over top of the song several times to prohibit other stations from taping it off air and playing it themselves.
CHUM quickly became THE Beatles station for Southern Ontario and always had the jump on Beatle news long before any other Top 40 station in the Toronto area.
How?
Well, one reason was because in December of '63, a Scarborough high school student named Trudy Medcalf became CHUM's newest on-air personality.
So who was Trudy?
Trudy had been to England earlier in 1963 and had seen The Beatles live. She wrote to the official British Beatles Fan Club to ask if she could start one in Canada. They gave their permission and Trudy became the President of the Ontario Beatles Fan Club.
Trudy was an enthusiastic ambassador for The Beatles on CHUM with a daily show with evening DJ Dave Johnson. Trudy had come to CHUM for help with the fan club as she couldn't afford to handle the rapidly growing membership.
CHUM happily got involved.
Every day after school, Trudy was picked up by taxi and driven to CHUM. She recorded her daily program with Dave Johnson, then a cab drove her home. For the Fan Club, Trudy wrote the weekly Beatles newsletter and brought it with her to the station once a week. CHUM mimeographed the hundreds, then thousands of copies needed and paid for all of the envelopes and postage. At its peak, Trudy's Beatles Fan Club had over 100,000 enthusiastic members.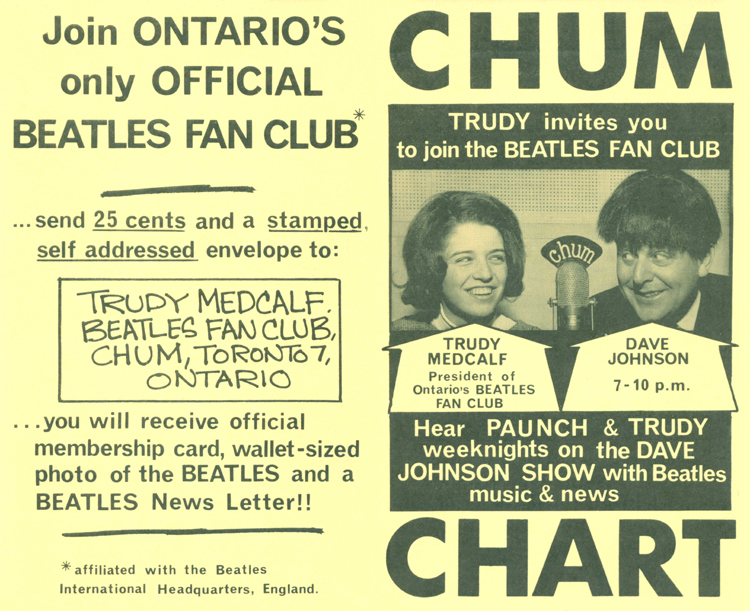 When The Beatles arrived in New York for their first appearance on the Ed Sullivan Show in February of 1964, CHUM paid for Trudy, her Fan Club Vice President (and Scarborough neighbour) Dawn Hester as well as Trudy's father to fly to New York to meet The Beatles. When he was first introduced to Trudy, John Lennon bowed in appreciation. That's how much the Fan Club meant to 'the boys' in the early days of Beatlemania.
And of course, on August 16th, 1964 when The Beatles were in Toronto for two concerts at Maple Leaf Gardens…Trudy was there.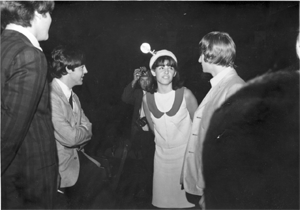 And so was CHUM. Left to right in the photo below are CHUM Program Director Allan Slaight, newsman (and fill-in DJ) J.J. Richards, Paul McCartney and Dave Johnson.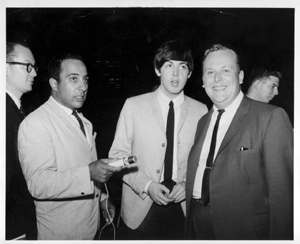 CHUM's morning man Jay Nelson was the emcee for the '64 Beatles nighttime concert. In an ironic twist, CHUM's former morning 'mayor' Al Boliska, emceed the afternoon show representing CHUM rival CKEY.
Throughout 1964, '65 and '66, CHUM continued to dominate the market with the most up-to-date Beatles music and news. One day, during the early summer of '64, a young man named John Horan, who was originally from Liverpool and now lived in Toronto, walked into CHUM and walked out with his own weekly show, "The Liverpool School". John played the latest 'British Invasion' hits while updating CHUM listeners with the latest news from 'jolly old' England.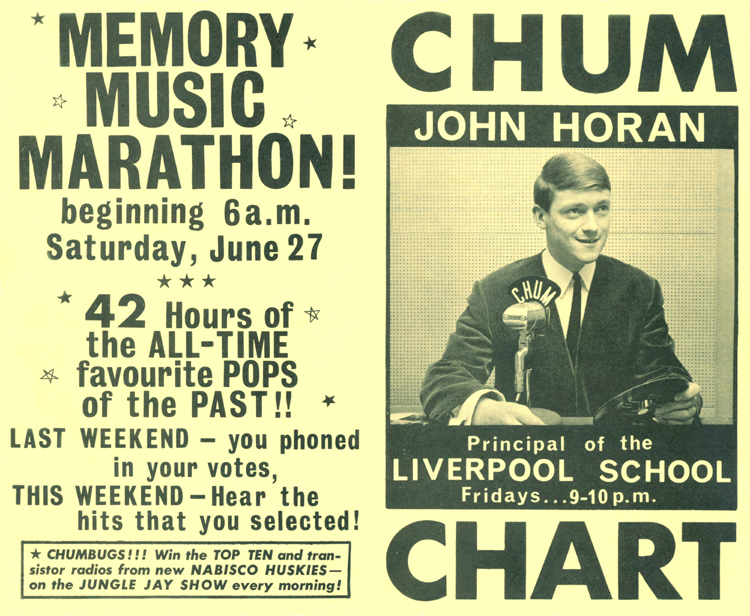 Fast forward a few years to 1970. CHUM's latest competition, Foster Hewitt's CKFH had bought the Toronto rights to Bill Drake's 'History of Rock and Roll". Drake was the architect of 'Boss Radio' in Los Angeles at KHJ that had seen that station climb to number one in the ratings in less than 3 months and the Drake format of 'less talk, more music' was adopted by hundreds of radio stations across North America.
To counter program CKFH, CHUM's Program Director J. Robert Wood decided that CHUM would create a 12-hour music documentary to be called "The Story of The Beatles".
We had less than two weeks to create those 12 hours…from scratch. At that time, there were very few books available for research on The Beatles. The only two that I can recall were Hunter Davies' official biography of The Beatles and manager Brian Epstein's "A Cellarful of Noise". We somehow (I didn't ask questions) obtained quite a few Beatles interview tapes from CFOX Montreal, who had a British DJ named Roger Scott. Through CHUM's reputation and clout, we managed to obtain phone interviews with Ed Sullivan, Vidal Sassoon (to discuss the British fashion and social scene), Chicago DJ Dick Biondi, radio newsman Larry Kane who toured with The Beatles in 1964 and '65 as well as one fourth of the Fab Four…Ringo Starr himself!
The timing for the program was perfect. The Beatles had announced that they were taking a break from each other. The official break-up didn't come until the following year, 1971. CHUM wordsmith extraordinaire Bill McDonald wrote the script, Chuck Dann aka Chuck Riley (from WIBC Indianapolis) flew into town to narrate it over a weekend and Warren Cosford and I produced it.
"The Story of The Beatles" aired twice on CHUM (thanks to many requests from the listeners) and was syndicated to any other radio station in the world who asked for it (the only cost was for the 12 reels of tape it took to dub the program).
The Beatles once again helped CHUM score in the ratings.
Now we jump ahead 21 years to June of 1991. Paul McCartney was in Toronto and staying at the Sutton Place hotel at the corner of Wellesley and Bay Streets. Everyone and I mean everyone from CTV, CBC, national newspapers, American broadcasters, everyone had to come to Sutton Place to interview Paul.
Except for CHUM. His publicist mentioned that CHUM radio would, like an interview. Paul replied, "I'll go to CHUM."
Paul McCartney remembered.
True to his word, Paul came to 1331 Yonge. While at CHUM, Paul was interviewed for CHUM-FM's 'In Toronto" program by newsman Scott Robbins and spent almost half an hour on-the-air in the 1050 CHUM control room with DJ Dan Michaels.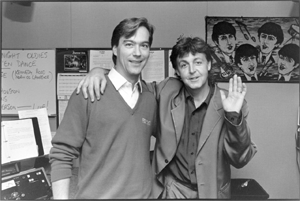 After the interviews were completed, but before Paul left the building, CHUM's General Manager Jim Waters presented him with an enlarged copy of legendary Toronto photographer John Rowland's classic photo of the 1965 Beatles Toronto press conference with the CHUM microphone right in front of Paul.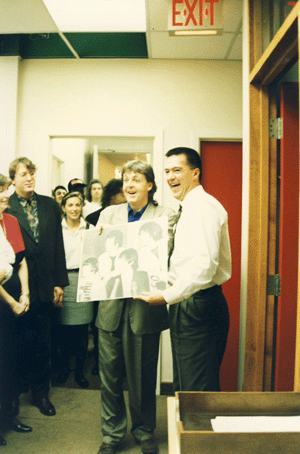 CHUM and The Beatles began their epic journey together in Toronto in late 1963. That relationship solidified in 1964, '65 and '66 and continued through 1993 and well into the 2000's until CHUM no longer played music.
But…if you were to ask Paul McCartney or Ringo Starr today if they remember CHUM Radio, I'll bet they'd say "Absolutely."
"And in the end, the love you take…is equal to the love you make." (The Beatles Abbey Road 1970)
Doug Thompson