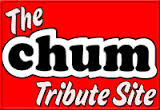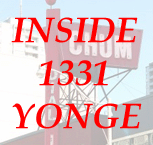 A monthly column by Doug Thompson
Issue #2 - July 2017
Besides the on-air jocks and news and traffic people, there were many behind-the-scenes staff that helped make CHUM the legendary radio station it became.
The Production Department was incredibly important to the sound of 1050 CHUM. The promos, ID's and many of the commercials (certainly the local ones) came out of the Production Department.
Zeke Zdebiak was one of the most creative producers CHUM ever had. His untimely and unexpected death in March of 2002 was a major shock to everyone at 1331 Yonge Street.
Warren Cosford was CHUM's Production Manager from 1970 until 1977. The following is an article he wrote just after Zeke's passing and is reprinted here with his permission.
Doug Thompson CHUM Archives
---
ZEKER HAD ME COVERED
The last time I saw Zeke Zdebiak was a few days ago at Canadian Music Week. As usual, he'd won some awards for Radio Production…..although this time it was a little more special than usual because one of them was for the 1050 CHUM Forever promotion. It was where we spent about 17 weeks last year "bringing the era of 1050 CHUM as a music station to a close with style, dignity, class and flair." It was also the last time we worked together. Zeke as The Producer. Me as The Hired Gun trying to figure what to do.
The first time I heard from Zeke Zdebiak was about 30 years ago. He was working in St. Catharines and called me at CHUM to ask how I had produced a commercial he'd heard on the station. Curious, I called a friend in St. Catharines Radio who told me that Zeke was a Great Guy and could be a Big Talent.
We hired Zeke at the first opportunity.
He came in as an Op and quickly became The Best Op. He was all business. Every show was going to be The Best Show. Yet as focused as he was, he was a very warm People Person.
It was a style I envied. I once caught him jumping up and down on a chair during a Rivers Break. Well…Zeke was not tall and weighed very little. And Rivers could always use the encouragement.
Later, as a Production Man, as persistent as he was getting tardy Jocks in the studio….as meticulous as he was getting the Best Performance…..I can't think of anyone who could get mad at Zeke.
But once he set his mind on where he was going though…..it was where he was going. Yet I can't recall anyone complaining that Zeke was stubborn. It was the way that he did it that was part of Zeke's Magic.
In his first few years in Production working with Bob McMillan and I, Zeke got mostly The Drudge. I "cast" all the production. He could have easily complained, if not to me then to others. But he never did.
There was also an innocence about Zeke.
Once we gave him a "spoof" spot to produce which, if it had made it to air, would have been a disaster. We never thought he'd really produce it. Zeke was so focused he recorded it without a second thought.
We also teased him a lot. His love of Blues Music created the nickname Blind Melon Zdebiak. Was it Rivers that came up with that? Zeke took it all in stride. Did he EVER get mad?
But what I remember most was producing one of the documentaries as equipment was breaking down, commercials were piling up and everyone was on the edge of collapse. I went in to Zeke's studio to see how he was doing. He turned to me with that little smile on his face and said…."don't worry Cos, Zeker's got you covered."
Zeker always had me "covered".
Most recently during The 1050 CHUM Forever Project [ed. note: in 2001] there was a death in Zeke's family. From experience, Zeke and I always planned things with a "Cushion for Disaster". Everything stopped briefly. But Zeke was back before I knew it….and thought he should be. We didn't miss a beat.
Zeker had me "covered".
I can honestly say I've never known anyone "like" Zeke Zdebiak. Zeke was "unique" without even trying. In a business that, today too often seems rife with Style over Substance Careerists who have no clue about the "soul" of Radio or any real instinct for it, Zeke was very special.
Most of all I'll miss dropping into CHUM when I'm in Toronto, going around to Zeke's Studio, plopping down in a chair across from him and not saying a word. We'd just smile. The smile of two people who have been through a lot together, are still doing it and a loving every minute of it.
As hard as I might try, it's unlikely I will ever know another like Zeke Zdebiak again.
Finding him once was A Gift.
Warren Cosford
March 5, 2002
---
INSIDE 1331 Archive
---
RETURN TO THE CHUM TRIBUTE PAGE