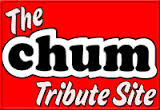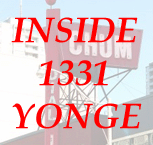 A monthly column by Doug Thompson
Issue #6 - April 2018
Throughout CHUM's history, the station always had amazing, creative writers. Some of those writers include Larry Solway, Garry Ferrier, Larry Green, Mike Kornfeld, Bill McDonald, Don O'Shaunessy, Val Marshall (known then as Val Thorne), Steve Boyling, dory Trowell, Larry McInnis, Mike Occomore, Mike Tennant, Eileen Neumann and Susie Matheson (my apologies to anyone I missed). Many of these writers not only wrote award winning commercials and station promos, but occasionally contributed programming ideas. In 1988, former CHUM writer Mike Tennant came up with a concept for a promotion that took on a life of its own...and then some. It was a Presidential campaign for Irv Weinstein, news anchor of Buffalo's WKBW television.
This is the story of that promotion.
Doug Thompson CHUM Archives
---
CHUM in 1988, some time between the Calgary Olympics and presidential election (spoiler: Bush Sr. beat Michael Dukakis), the late, wonderful dory Trowell hired me as junior copywriter at 1331, a move that I believe thrilled me far more than it did her. My Calgary pal Marilyn Denis had lobbied for me, and by then, I'd already been phoning in gag features to the FM morning show. (The features were "Hector MacMillan's Olympic Scrapbook". Larry MacInnis named the character as a nod to both Hector Card and Bob MacMillan.)
Once at 1331, Larry encouraged me to pitch gag pieces to the 1050 morning show, and Gerry Forbes, who needed no help crafting funny material, was welcoming and generous.
By that summer, the US presidential campaign was gearing up and we smelled an opportunity. One day I asked Gerry "Why don't we run Irv Weinstein of Eyewitness News?" Gerry loved it immediately: a presidential campaign built on more firetrucks. More chicken wings. More film at 11.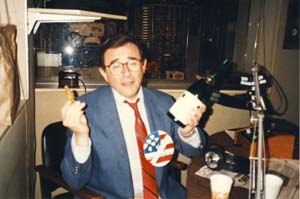 With Gerry and Gagman kicking in material, I organized campaign-promise promos, and the Sun's Gary Dunford faithfully reported our gags on Page Six. The campaign had developed legs.
That's when it struck me that we really ought to let Irv in on the gag. I remember dialing WKBW, and with all the raw ineptitude of a teenage kid in a 1950's educational film, I got Irv on the phone and squeaked out my well-rehearsed pitch. After a few moments (I'm sure at first he thought it was a prank) he laughed and said he'd be glad to help.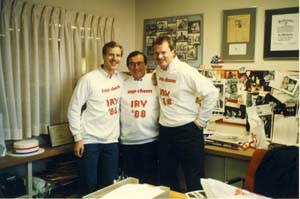 He was brilliant. He'd phone into the morning show to recite our campaign promises, which the great Zeke Zdebiak turned into more promos. ("I will name Commander Tom as Chairman of the Joint Chiefs of Staff".) Soon, WKBW arranged to send Mike Randall up with a camera to cover our campaign.
That's when I got the call from Laurie Coates: Jim Waters wanted to see me.
Crap.
The campaign was chewing up a great many hours, and I know dory wasn't thrilled that it pulled me away from my regular duties. I was certain Jim was going to ask me to dial back the campaign. Fun's over, outta' the pool, back to your lives, citizens.
Of course, he did the exact opposite. He said he loved the campaign, he wanted to throw some budget at it, and what did I need? In spirit, I am still, after thirty years, back in Jim's office, with my jaw hanging open.
For WKBW's arrival, Suzette Legault had posters printed, sweatshirts made, there was a cake (with toy firetrucks on it), balloons, streamers, and Irv '88 boater hats. One morning Moses Znaimer walked in for a meeting with Mr. Waters. He stared a long time at one of the posters, gave an irritated look, as though someone had just handed him a gin-and-root-beer, then disappeared upstairs. Maybe he wished we'd run Gord Martineau. I've always admired Moses, but confess to taking guilty pleasure in that moment.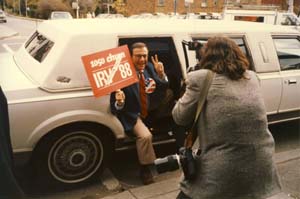 As election day neared we hadn't thought much about our storyline: CHUM had arranged to bring Irv up by limousine the morning after. Contest winners were invited to Spiga for a "power lunch with the President-elect". I remember spending a lot of election night at the photocopier. Stealing shamelessly from Citizen Kane, I created dozens of strip-signs reading "Election Fraud", and went around the building pasting them across the corner of our Irv '88 election signs.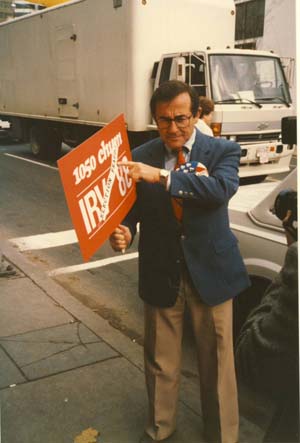 With Geoff Shier in shades and a suit jacket with a $1.50 Radio shack earphone, security was in place. The lunch was a blast. Irv was a class act, and enjoyed the campaign as much as anyone.
With the backing of 1050 CHUM, Buffalo's favourite anchorman had come within 50 million votes of the Oval Office. In the end though, it's was just one of hundreds of times that folks at 1331 showed they're the best in the business.
And that pivotal meeting in Jimmy Waters' office? When people ask me what was so great about working at CHUM, that's the story I tell.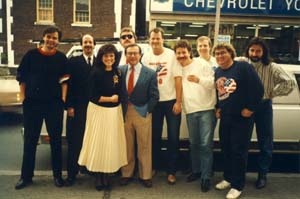 Mike Tennant
March 2018
---
RETURN TO THE CHUM TRIBUTE PAGE