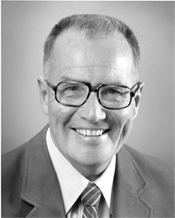 Allan Waters in 1960s (CHUM Archives/Doug Thompson)
May 27, 1957 was the day that changed Toronto radio forever. At 6 o'clock in the morning, listeners tuned to 1050 heard Elvis Presley singing "All Shook Up" on the "New CHUM."
Although CHUM 1050 had been on the air since 1945 as a dawn-to-dusk radio station (meaning the station signed on the air at sunrise and signed off at sunset), it wasn't until former patent medicine sales executive Allan F. Waters bought CHUM in December 1954 and then, two and a half years later, turned it into Canada's first 24-hour-a-day rock and roll radio station, that things really started to happen for CHUM.
Mr. Waters deserves immense credit for his daring move. Many of his close friends advised him that he was making a major mistake. Even a few of the previous sponsors wouldn't advertise on the "New CHUM."
But Mr. Waters stuck to his guns.
In a memo to CHUM staffers dated January 11, 1957 (4 months and 16 days prior to 'The Big Switch'), Mr. Waters outlined some of his radio philosophy.

"All radio stations can play the same records. People can play the same records as we do at home on their phonograph. How can we make our presentation of music more exciting? Radio must be exciting. People like excitement and if we provide the excitement, the people will listen – and if we have a large audience, we can sell merchandise for our advertisers. We've got to promote CHUM so that people in all walks of life will discuss CHUM. The newspapers and newspaper columnists will be forced tom write about this different radio station – CHUM. CHUM must be the station that appears at all major public events. CHUM must give the impression of being the people's station."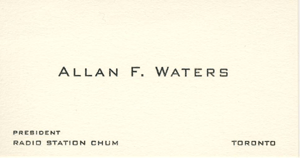 Allan Waters business card, 1960s (CHUM Archives/Doug Thompson)
Later in the memo while discussing station promotion and programming, Mr. Waters wrote: "Programming and promotion go hand-in-hand. Our programming must be good or regardless of how much promotion we get, we won't keep listeners – and our promotion must be good or regardless of how good our programming is, we won't get as many listeners as we should."
When it came to the presentation of news, Allan Waters showed in his memo that he was way ahead of the pack with his concepts: "We've got to make CHUM News so good that people will be afraid NOT to listen to CHUM in case they miss an up-to-the- minute news bulletin. A good news story can be substituted for a phonograph record. A good news story cannot be duplicated by other stations, whereas a phonograph record can."
An important part of CHUM's early success was the station's zany morning man Al Boliska, who joined CHUM in October 1957, after working at CKSL in London and CKLC in Kingston, Ontario. Boliska popularized such features as he "World's Worst Jokes" (and they usually were groaners). 'The Happy Hungarian', as Boliska called himself, also participated in a number of promotional stunts (usually for charity), including a professional wrestling match with Whipper Billy Watson. When he lost, that led to another stunt, when Boliska stayed away from his morning show for several days, saying he was too discouraged by the loss to do his show. Promos were aired and a hypnotist was hired, Boliska's self-esteem was restored and all was right with the world of CHUM.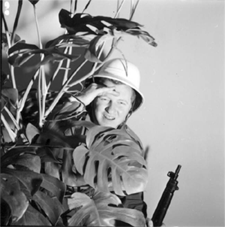 Jay Nelson behind foliage, 1960s (CHUM Archives/Doug Thompson)
Al Boliska left CHUM in late 1963 and was successfully replaced by. WKBW Buffalo radio & TV personality Jay Nelson, popularly known as 'Jungle Jay', who was host of a children's television show on Buffalo's Channel 7 which was also popular among Toronto youngsters including Allan Waters daughter Sherry, who suggested that her dad hire Jay for CHUM's newly vacant morning show.
Mr. Waters did.
Nelson, like Boliska before him, was followed by the 'housewives favourite', John Spragge. Pete Nordheimer, who had been at CHUM prior to the launch of rock and roll, held down the 1 to 4 shift. Pete left CHUM in 1961 and was replaced by Bob McAdorey who'd previously been at CJOY in Guelph, Ontario. Singer, actor and DJ Mike Darow (4 to 7 p.m.) came from Edmonton's CFRN to CHUM in 1959. Mike was followed by the 'teens' DJ Dave Johnson with Bob Laine holding down the all night show from 1958 to 1968, when he moved to the 11 a.m. to 3 p.m. air shift. Later '60′s additions to the CHUM lineup included Brian Skinner and Duff Roman, both of whom moved over from CKEY (Brian in 1963 and Duff in 1965). Donny Burns and Michael Cranston were also CHUM air personalities during the 1960's.
By the late '60s and 1970s, CHUM DJs included Hal Weaver, Duke Roberts (also known as Gary Duke for a time), Chuck McCoy, Dave Charles, Johnny Mitchell, J. Michael Wilson, Tom Rivers, Scott Carpenter, Mike Holland, Roger Ashby, Jim Van Horne, John Rode, Dr. Don Reagan, John Majhor, Mike Cooper, J. D. Roberts, Daryl B and Terry Steele. Later arrivals included Gerry Forbes, Bob Magee, Jack Dennis, Brian Henderson, Don Percy, Andy K, Gregg Lee, Lee Marshall, Steve Bolton, Melanie Deveau, Gord James, Jeanne Beker, Russ McCloud, Marc Chambers, Charlie O'Brien, Mark Paine, Stacy Thompson and Dan Michaels, among others.
CHUM was also well known for its legendary contests, like the 1959 "Walking Man" contest, in which listeners had to identify a specific person in downtown Toronto. It caused a major traffic jam. Toronto police were not amused with CHUM's promotion.
It wouldn't be the last time that happened.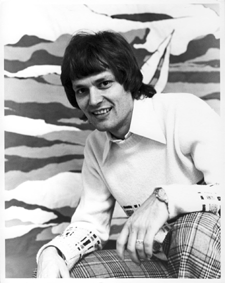 Scott Carpenter cover used for CHUM Chart of April 19, 1975 (CHUM Archives/Doug Thompson)
Scott Carpenter created an even greater traffic problem in the '70's when he asked drivers to honk their car horns at eleven o'clock one night.
Scott (aka Pat Bergin) recalls the event: "Now the show went on the air at 9, so as soon as my first record ended, I said, 'It's 9:02…we're one hour and 58 minutes away from the 'Big Honk'. At 11 o'clock, come by the station if you can, but wherever you are…honk your horn!' I kept this up after every song. 'It's 9:30, we're one hour and 30 minutes away'. 'It's 10 o'clock, we're one hours away', etc. As the big moment approached, I decided to have a look outside just to see if anyone was there. I thought that a few cars would show, imagine my surprise when I opened the blinds [in the newsroom that faced Yonge Street] and saw hundreds of cars, blinkers flashing, stretched as far as the eye could see, north and south on Yonge Street waiting for their moment in the sun. For a moment, I thought about cancelling the bit, but THAT would've gone over like a lead balloon. Besides, they'd probably do it anyway. So when 11 o'clock arrived, I gave the command…'It's 11 o'clock, wherever you are, HONK YOUR HORN…let the world experience greaser power!!!'
The place went up like an air raid! I swear, I've never heard anything like it."
And neither had Metro Toronto Police, who showed up and Scott was sternly admonished to never pull that stunt again.
Also in the 1970s, "I Listen to CHUM" was the big catchphrase in Southern Ontario. CHUM DJs dialled numbers at random and awarding a thousand dollars to anyone who answered their phone with the 'phrase that pays'.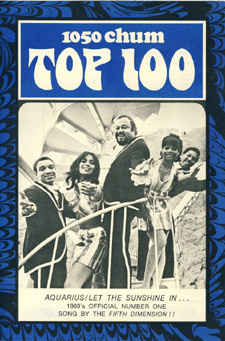 CHUM Top 100 Chart (CHUM Archives/Doug Thompson)
The CHUM Chart was, for many years, the most influential weekly Top 40 chart in Canada. The first personal CHUM Chart was published on May 27, 1957 with Elvis Presley's "All Shook Up" at Number 1. The final personal chart was for the week of April 16, 1975 and the number-one song that week was "It's A Miracle" by Barry Manilow. The CHUM Chart continued to be published in newspapers until June 1986 (Madonna's "Live to Tell" was the #1 song) as CHUM switched to a light rock format branded as "Hits of Yesterday and Today."
CHUM became a full-time oldies station on August 28, 1989. On May 7, 2001, CHUM moved an all-sports format as "The Team." CHUM switched back to oldies in August 2002 and retained that format until 5 a.m. on March 26, 2009, when the station dumped oldies for good in favour of carrying the live TV feed from the news station CP 24. CHUM became a sports station again on April 13, 2011 with the launch of TSN Radio 1050. The CHUM organization was bought by CTV in 2006 and is now owned by Bell Media.
But it all started because one man, Allan Waters, back in 1957, took a chance with rock and roll radio.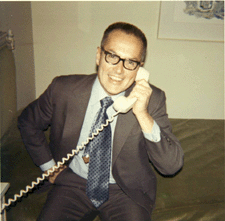 Allan Waters on the phone (CHUM Archives/Doug Thompson)
---
RETURN TO The CHUM Tribute Page