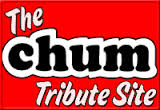 Mike Darow (1959-1965)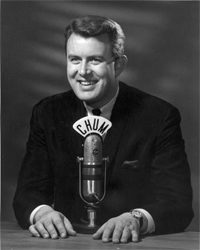 (Mike Darow publicity shot/CHUM Archives, Doug Thompson)
"Time to hear big Mike. Get good smileage with Mike Darow, he's got the tunes we know you'll like, on C-H-U-M 10-50 Toronto." (CHUM jingle circa 1962)
When Mike Darow came to CHUM in 1959, he brought a wealth of talent with him in his 6' 4" frame. Mike (whose real name is Darow Myhowich) had been an on-air personality at CFRN in Edmonton prior to joining the 'nifty 10-50'. He was also a professional singer, which came in handy a few years later when the station recruited Darow, John Spragge, Bob McAdorey and writer Garry Ferrier to form the CHUMmingbirds. The group sang at charities, the CNE and even had a modest hit in 1965 with the Quality Records single "The Brotherhood of Man", written by Ferrier.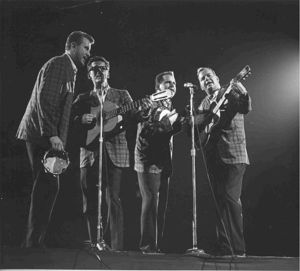 (Mike Darow with the CHUMingbirds/The CHUM Archives, Doug Thompson)
But Mike had already made the CHUM chart 6 years earlier with the Garry Ferrier written novelty record, "The Battle of Queenston Heights", which was a parody of Johnny Horton's 1959 hit, "The Battle of New Orleans".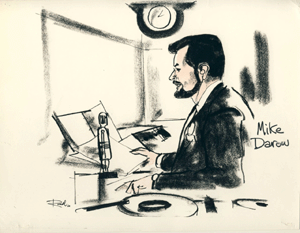 (Mike Darow caricature/The CHUM Archives. Doug Thompson)
Mike Darow's CHUM shift for many years was the 'drive home' period, 4 to 7PM. A few years after Bob McAdorey arrived at CHUM in 1961 to replace Pete Nordheimer, who was on-air from 1 to 4PM, station management switched Darow and Mac's shifts. Mike remained in that afternoon shift until he left CHUM in the Fall of 1965.
Darow moved to New York after leaving CHUM where from 1968 to 1970, he was the host of the ABC Television Network game show "Dream House". Mike also hosted game shows in Canada o the Global Television Network as well as handling off camera announcing duties for several programs in the U.S.
Mike Darow passed away at the age of 63 on December 7, 1996.
Doug Thompson
CHUM Archives
---
RETURN TO The CHUM Tribute Page