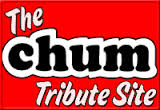 Michael Cranston (1967)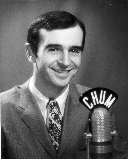 (Courtesy: Doug Thompson/The CHUM Archives)
For Michael Cranston, it all started at a 250-watt radio station in Midland, Ontario.
Well, not quite. The future CHUM jock actually got his radio start in July 1963, as a "gopher" for Hamilton's CKOC (his father was general manager). He did odd jobs around the station, including "getting coffee for the guys." But his first on-air gig came in September of '63, at CKMP Midland. He started there doing the 6 p.m.-midnight shift, but within three or four weeks was appointed news director.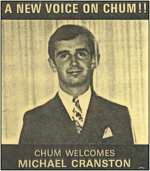 Cranston moved on to other stations around Ontario, including CKSO in Sudbury, where he met his wife, and CJOY in Guelph, where CHUM's Bob McAdorey once jocked. But his big break came in 1967, when he arrived at CHUM. At the time, CHUM's weekday lineup included Jay Nelson in mornings, John Spragge in mid-mornings, Dick Hayes early afternoons, McAdorey afternoon drive, Brian Skinner evenings and Bob Laine all night. That was a pretty tough lineup to crack, so Cranston did weekends and swing. He left CHUM in January 1968 to return to Sudbury for a position anchoring a network telecast on television.
Later in his career, Cranston was morning man at CFRN Edmonton and network anchor/program director at CFRN-TV (1972-76), then returned to CKSO radio and TV in Sudbury (1976-79). Cranston also had a stint at CKPG Prince George, B.C. He became news director of the Maritime Broadcasting System in 1979 where he stayed until his retirement in 2010. Cranston founded G. Michael Cranston Productions in 2000.
Dale Patterson, Rock Radio Scrapbook
---
RETURN TO The CHUM Tribute Page