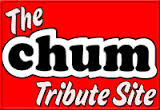 CHUM Charts
The '80s
By the mid-1980s, CHUM was fighting a ratings battle with Top 40 competitor CFTR (owned by Ted Rogers) as well as its own sister station CHUM-FM.
On June 6, 1986, CHUM dropped its Top 40 format for a gold-based adult contemporary format ("Favourites of Yesterday and Today").
The newspaper CHUM Chart ended the week of June 14, 1986 with Madonna's "Live to Tell" as the final Number 1 song.
---
RETURN TO THE CHUM TRIBUTE PAGE